Poolside Wedding Brief description: Hawaiian tropical poolside (accommodation for at least 300 people) is a great place to hold parties, also a unique choice for wedding. Guests can wear glamorous dresses, dance by the pool, and drink cocktails. People in sexy swimming suits can jump into the pool to show their youth and passion.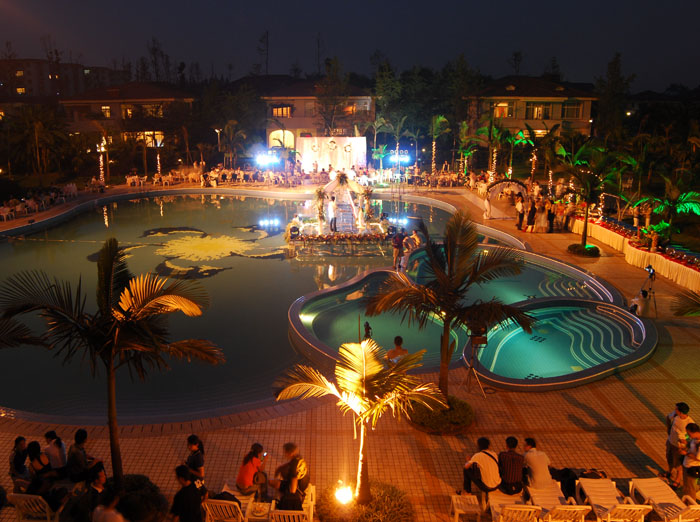 Photo details:
Price of a wedding feast (Chinese style):
For each table: 1699/1899/2008 /2599/2899 RMB
Happiness begins here at the Home International Hotel.
We cheer for your happiness, expressing our best wishes for you.
We have special reception and decoration with many beautiful flowers, crystal champagne tower, parking lot for all the guests, wedding table cards, seats for the hosts and guests decorated with flowers, dressing room for the bride, two bottles of champagne, a wedding fruit cake (6 pounds), 100 invitation cards ( flexible).
No charge to bring your own wine, for your own-brought beer or soda, we charge a service fee of 10% of the cost of each table.
You can enjoy a 40% discount off the sticker price of the room reservation on the night or the eve of the feast.
a free shuttle bus (29 seats) for the very day of the feast.
We offer a luxury honeymoon suite for the day, and you can have a 40% discount if you extend your stay.